My index of all interviews of the last ten years up until 2018 is
here
My list of all 2018 reads
is here
My list of 10ish favorite books read in
2018 is here
As with last year I'm going to try to keep reducing how much I read by white male authors, keeping that below 50 percent (it used to be like 85 percent) since I want to read books from women and/or people of color. I'm doing this both to get exposed to more authors and their perspectives plus it may help me be better able to assist those in marginalized communities.
Book #1 - Astrophysics For People In A Hurry by Neil deGrasse Tyson. I read this both to try to understand this stuff and for a book club.. Finished it last nite and the discussion group is Tuesday. Hoping I can retain the information until then, at least. While it was easier to read this as an audiobook I think I remembered it less well because of that. Tyson is excellent at explaining things and I better understand some subjects now. This was all happening while he was facing more ramifications due to the allegations against him. 8 out of 10.
Book #2 - Scrublands by Chris Hammer -
In Scrublands, Australian author Chris Hammer writes about a journalist, Martin, sent to a drought-ravaged town in Australia where the one year anniversary of an event is coming up: A year earlier a priest, minutes before a weekend service, stood on the church steps with a gun and shot several people before being killed himself.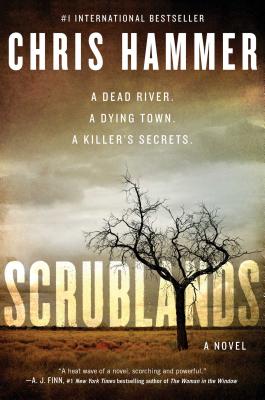 Martin finds things are not as it seems as far as the story told about the incident and, while investigating, there are fires, a fatal car accident and he falls in love with a local resident.
The old journalism rule about not becoming part of the story is broken repeatedly. This book has twist after twist including Martin publishing stories that seem accurate at the time, but soon turn out to be otherwise. This is great writing that will keep surprising you.
I give it a 9 out of ten
i interviewed him here:
Book #3 of this year is this excellent book , Tear It Down
From the introduction of my interview: "I have a theory that if you give an awesome book full of adrenaline, excitement and plot twists to someone who usually needs a cup of coffee to get moving in the morning, the book will do the job. Nick Petrie's new novel, Tear It Down, is one such book.
As the book, the fourth in Petrie's Peter Ash series, begins, Ash's girlfriend sends the restless war veteran to Memphis to help a friend, Wan
da, with a situation: she's receiving strange threats. By the time he arrives her home is under attack, bulldozed by a garbage truck.
Meanwhile, a young homeless musician in Memphis, on the run after a jewelry store heist goes sideways, steals, at gunpoint, Ash's car and Ash finds himself immersed in a second case with Ash trying to help not just Wanda but also this musician, Eli.
Petrie masterfully advances both stories while fleshing out all the characters."
"Lots of characters get compared to my own Jack Reacher, but Petrie's Peter Ash is the real deal…The writing is terse and tense, full of wisdom and insight, and the plot is irresistible."
I give it a 9
and interviewed %url (https://mysterypeople.wordpress.com/2019/01/16/scott-butkis-interview-with-nick-petrie/ the author here )
Book #4 - I was hooked on No Mercy as soon as I read the opening line: "You kill one guy, one time, and suddenly everyone thinks you need therapy…" The protagonist, Ellery Hathaway, a police officer, is famous because she killed a particularly brutal murderer. He's in prison, she's involuntarily suspended.
The author, Joanna Schaffhausen, keeps the action and adrenaline and droll wit that first sentence implies. This is the second book in a series involving Hathaway, the first is called The Vanishing Season, for which she won the Mystery Writers of America First Crime Novel Award in 2016.
While dealing with harassment, unwanted attention and personal threats for her actions, Hathaway is pushed to join a group therapy consisting of other survivors of terrible crimes. As she and an FBI profiler, Reed Markham, began to investigate the cases of two of the survivors in the group they find things are not as simple or clear as one would expect. There are many twists and turns as well great character development.
I give the book a 9.
I interviewed the author here:
Book #5 - How Not To Get Shot: And Other Advice From White People by comedian D.L. Hughley.
I read this for a book discussion we just had tonite but also out of curiousity. It's an interesting read because he finds a way to bring humor to such terrible topics as cops shooting people of color, how
no matter what you do when stopped by police some cop can/will find it to be in error and justification for shooting. He also destroys the idea of reverse racism, points out that when white people talk about welfare they forget to talk about things like all the money given away to corporations not to mention sports stadiums. This is a good read that will make you laugh until you cry. I give it an 8.
Book #6 - Lincoln In the Bardo by George Saunders. This is my first reading of Saunders and while there is a lot of hype about him I really liked this book. It took me about 100 pages to really get into because one of his devices (to quote from multiple sources, one by one) was somewhat jarring but I got used to it.
I recommend listening to it on audiobook because there's a cast of more than 100 folks, mostly actors but also Saunders himself, voicing all the characters, which made it both more entertaining but also easier to follow.
I give it a solid 8 out of 10.
Book #7 - Kindred by Octavia Butler. This is my first book by Butler but I was so blown away that I will definitely be reading more. I read this
partly out of curiousity and partly for a book discussion I co-led yesterday for Austin Justice Coalition. The novel's concept is that Dana, a black
woman, and Kevin, her white husband, are in their residence in the 1970s when she gets pulled back in time to the south before the Civil War war where she gets a
first hand glimpse of li
fe as a slave and how white people were treated. She time travels back and forth a few times - as does he but only once -
and what she sees and feels and what happens to her and others there is horrendous. As a white man steeped in anti-racism work i strongly recommend this, especially to other
white people, for a fascinating fictional take on race relations back in the 1800s not to mention even back in the 1970s. I give it a 9 out of 10.
Book #8 - The Midnight Line by Lee Child. The criticisms of this series are all fair: somewhat predictable, not a lot of character depth. On the other
hand sometimes we just need a good guy beats bad guy fun book. This book accomplished that. I give it an 8 out of 10.
Book #9 - Cemetery Road by Greg Iles. This new book by Iles, a standalone, is interesting but not nearly as good as his Nachez Burning trilogy. I had the opportunity to interview him here for this new book.
https://mysterypeople.wordpress.com/2019/03/05/scott-butkis-interview-with-greg-iles/
Book #10 - Trespasser by Tana French. This is the sixth book in her Murder Squad series. While it was good it seemed loooong. Some of that may have been become I didnt read the earlier books yet. I'm giving it a 7 out of 10. It'd be an 8 if it'd been shorter. (The long/short may have been because I listened to it on audio)
Book #11 - The Cruelest Month by Louise Penny - I really enjoy Louise Penny's books about Inspector Gormcuh. This is my third one and all three take place in Three Pines. Do some take place elsewhere? Anyway I listened to all 3 on audiobook and driving around with these characters on does sure relax and entertain me. I give it an 8.
Book #12
The Ex by Alafair Burke. I'm trying to read more non-white-males lately and between that and wanting to see if James Lee Burke's daughter's prose is as amazing as his I thought I'd try one of Alafair Burke's books.
It was completely different: the style, the genre, the quality. The concept is that a lawyer's ex has been arrested, accused of murdering three people, and she, pressured by him and his daughter, takes the case. The book has some good plot twists. But for every plot surprise there were predictable parts and that left me wanting more. I'll give it a 2 out of 5 and stick with her dad's books instead

I've interviewed Alafair twice but in relation to books she wrote with Mary Higgins Clark, most recently here:
https://mysterypeople.wordpress.com/2018/11/19/scott-butkis-interview-with-alafair-burke/
Book #13 - The Trail of Lizzie Borden by Cara Robertson.
Excellent book, an exhaustive (but not exhausting) look at this fascinating case.
I also interviewed the author here: https://mysterypeople.wordpress.com/2019/04/09/scott-butkis-interview-with-trial-of-lizzie-borden-author-cara-robertson/
Book# 14 - Game Of Thrones - Graphic Novel, Volume One. A good primer as I begin watching season one. I give it a 4.
Book #15 -
One Person, No Vote: How Voter Suppression Is Destroying Our Democracy by Carol Anderson. Excellent, thorough look at how in history, as well as in the present, government agencies have stopped groups, often marginalized groups, from voting. Reading this while hearing of current voter suppression investigations made it more fresh and powerful. Looking forward to a discussion of the book on Sunday.
Book #16 - Hamilton: The Revolution by by Lin-Manuel Miranda and Jeremy McCarter
This is an excellent, engrossing book walking the reader through how Hamilton the play went from just a gem of an idea to the huge hit it is. I got this partly because i'm going to get to see it in late May. Next up is the audiobook of Ron Chernow's book on Hamilton that put this whole idea in Lin's head in the first place. 4 out of 5
Book #17 - Becoming by Michelle Obama - Excellent memoir looking back at not just her eight years in the White House but her whole life. Fascinating glimpses into who she is, her thought process, excellent stories about life with Barack. 8 out of 10.
Books #18-20: Soon after moving to Austin, TX, about ten years ago I was introduced to the fascinating wonder that is flat track derby and rollergirls. If you have never gone to flat track derby, you need to. It's amazing and fantastic. It made a comeback here in Austin then it became big again across the country
Two books of photographs capture the rollergirls and their sport in all their splendor from their creative names (Bonnie Collide, Bettie Rage, Mo Pain, Fisticuffs,
Vicious Van GoGo) to them not hesitating from hurting each other at times if that's what's needed to win. Those books are "Scars and Stripes: The Culture of Modern Roller
Derby" by Andreanna Seymore and "Rollergirls: The Story of Flat Track Derby" by Felicia Graham.
Those are good supplements to a book by Melissa "Melicious" Joulwan, "RollerGirl: Totally True Tales From The Track," where she describes seeing roller derby and seeing out joining a team, learning what she had to do to be a good player and her experiences as a rollergirl. It's all fun, amazing stuff - well, except when they got hurt. I give them all 8's. All three books are available via the Austin llbrary. .
#21 - Below the Fold By RG Belsky -
As a former journalist and a fan of mysteries I'm a bit biased in favor of books about the news media written by current and former journalists. I thought I should mention that as I introduce an interview about the latest book by R.G. Belsky, Below The Fold.
That said, R.G.'s books would be great reads even if they were not based in the world he knows best, the news media.
As the book begins one of the news reporters wants to go against the grain and do a news piece on the murder of a woman who is homeless. While that story would often not get much media attention Clare approves a story about this woman who called herself Cinderella.
Soon there are more murders, more victims, more questions
I interviewed Belsky here: https://mysterypeople.wordpress.com/2019/05/22/every-murder-victim-can-have-a-story-scott-buskis-interview-with-r-g-belsky/
I give it an 8
--------------------------------
6 books by white man
5 books by white women
5 books by authors of color
-----------------------------------